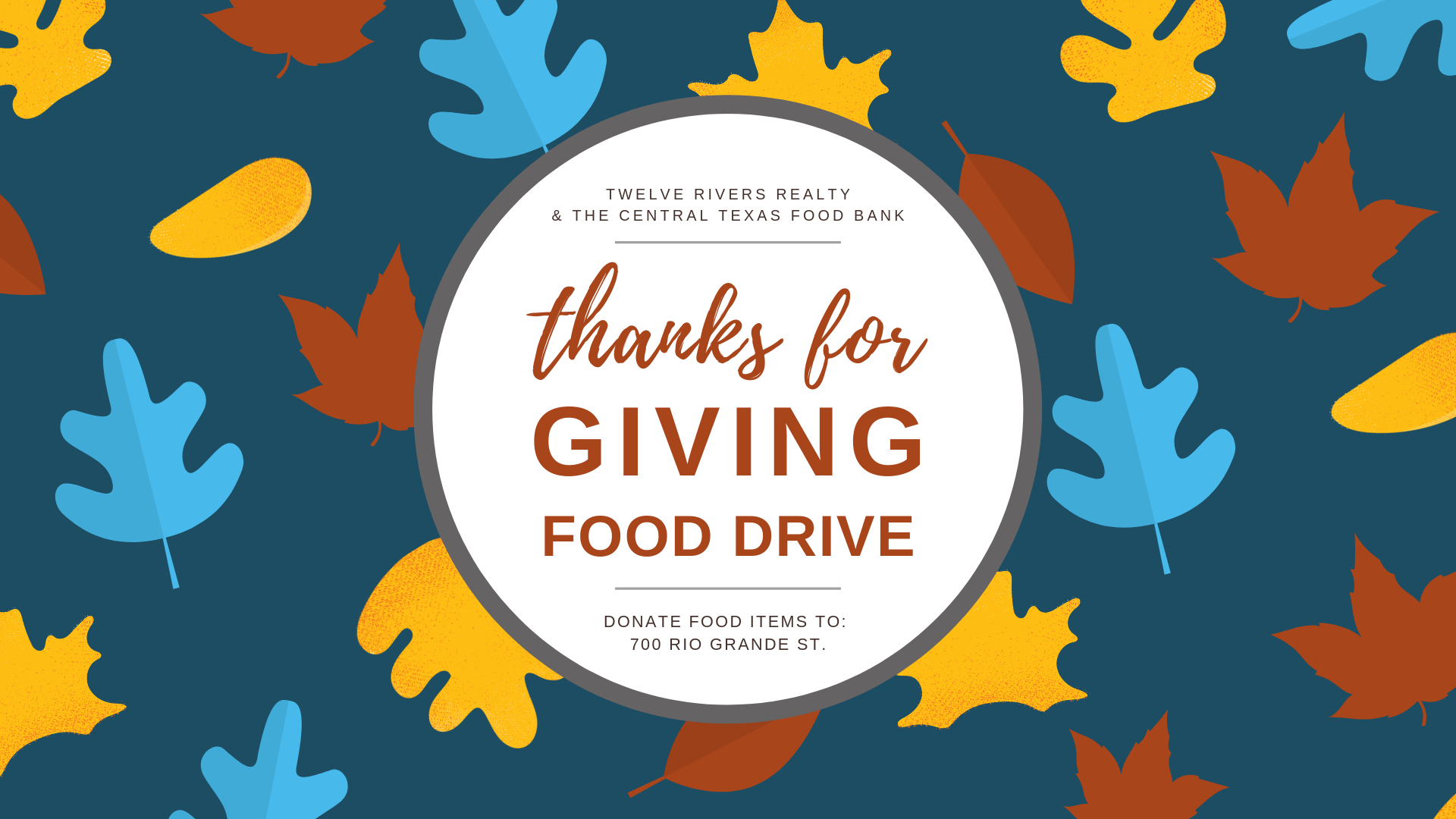 November is here and the holiday spirit is in the air here at Twelve Rivers Realty. For many of us, the holidays are a joyful time to gather with friends and family around the table for a delicious meal.
But, for many Central Texans, worry is a big part of this cheerful winter season. Worry about if they will have enough food to feed their children. Worry about if they will have to choose between buying groceries or medications again this month.
The good news is we have the power to give the gift of hope this holiday to people in need of a helping hand! Join Twelve Rivers Realty in the fight against hunger in Central Texas.
Every $1 or 4.8 pounds of food you donate creates 8 meals. Every little bit helps!
Bring non-perishable food items to our office (700 Rio Grande St.) or donate online by clicking here.
Why should I donate to a virtual food drive?
• You're helping more people. The Food Bank uses your dollars to provide far more meals than you can buy at the store – about five times as many meals!
• You don't have to store collected food or transport heavy boxes to us. Not only do Virtual Food Drives raise more meals, but it makes donating easier for you.
• Your dollars are flexible. The Food Bank will put the funds you raise toward the area of greatest need.
What kind of items should I donate?
If you've had some non-perishable items in your pantry for a while, why not donate them to the Food Bank? Your gift to the Food Bank can make a difference for a Central Texas family in need.
Because the well-being of our clients is our first priority, we can only distribute food that is safe and healthy. To ensure that your gift goes to a family in need, please be sure to give:
• healthy, non-perishable food
• items with intact, un-opened, consumer or commercial packaging
• items with non-breakable packaging (no glass please)
• food within the expiration date on the packaging
Most-needed food items:
• peanut butter
• canned chicken breast or tuna
• canned low sodium vegetables
• canned fruit in its own juice (no sugar added)
• dry pinto beans
• brown rice
• non-fat dry milk powder
• 100 percent whole grain cereal
Each of these items helps families prepare healthy, nutritious meals for their families.
How can I donate?
With the holidays just around the corner, it's the perfect time to declutter your pantry and donate items to annual Thanks-for-Giving Food Drive.
You can donate food items to our office (700 Rio Grande St.), Monday through Friday, 9AM-6PM. Or you can make a monetary donation online here.
Remember, each gift, no matter how small, helps us serve nearly 46,000 individuals in need each week. Your donations make a huge impact in the lives of Central Texas families facing hunger.