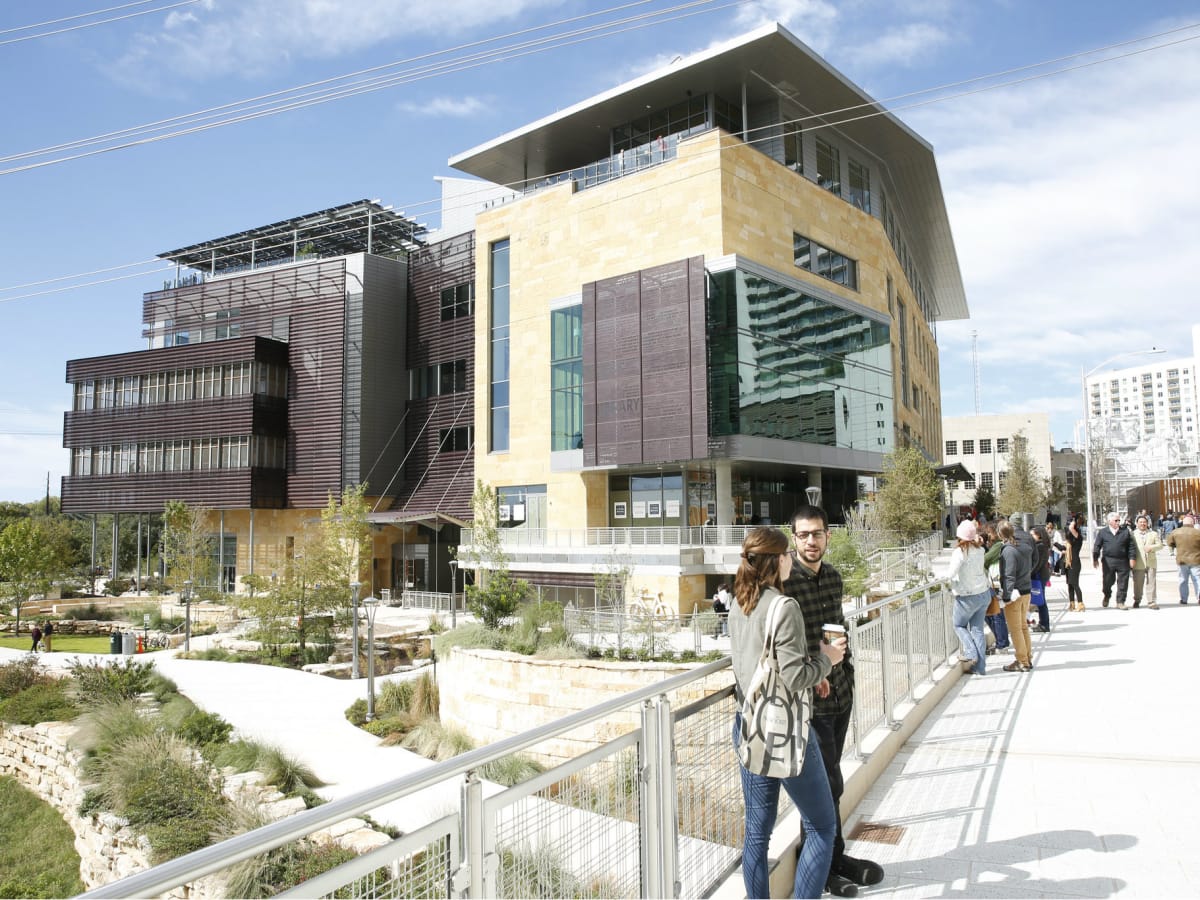 It's tough to argue the cultural significance of the Austin Central Library. When it opened in late 2017, it ushered in a new chapter for the Capital City (pun intended), highlighting Austin's love of language, learning, and community spaces to the rest of the world.
As Austinites, it's easy to wax poetic about the Lake Flato-designed library, a towering multi-level building overlooking Lady Bird Lake. As a public space, it not only offers hundreds of thousands of books, public artwork, and even 'zines, but it also serves as a refuge from its increasingly hectic downtown neighborhood.
Outside of Austin, our new crown jewel is increasingly getting noticed. On August 23, TIME selected the Austin Central Library as one of the 100 World's Greatest Places 2018 — the only library in America to receive such an honor.
"At this library, which opened in 2017, the books — 500,000 in total — are just the beginning of the story," writes TIME's Julia Zorthian. "There's also an art gallery, an event space, a rooftop butterfly garden, a series of group-study rooms, a café (featuring several cookbook-inspired meals), and a 'technology petting zoo,' which enables visitors to toy with next-generation gadgets, like a 3-D printer."
To determine the World's Greatest Places, TIME editors sifted through more than 1,200 nominations to find destination spots that are "breaking new ground, leading industry trends, and offering visitors an extraordinary experience," according to an Austin Public Library release.
Austin's Central Library joins international hot spots such as Vietnam's Golden Bridge, Barcelona's Casa Vicens, and South Africa's Zeitz Museum of Contemporary Art Africa on the prestigious list. San Antonio's Morgan's Inspiration Island, an inclusive water park in Alamo City, also garnered a top spot.
This isn't the first time the building has been honored during its short tenure. In June, the space was nominated for 2018 Public Library of the Year Award, one of only five libraries in the world to get a nod.
Article and photos were originally written and posted by CultureMap Austin. Click here to see the full article.