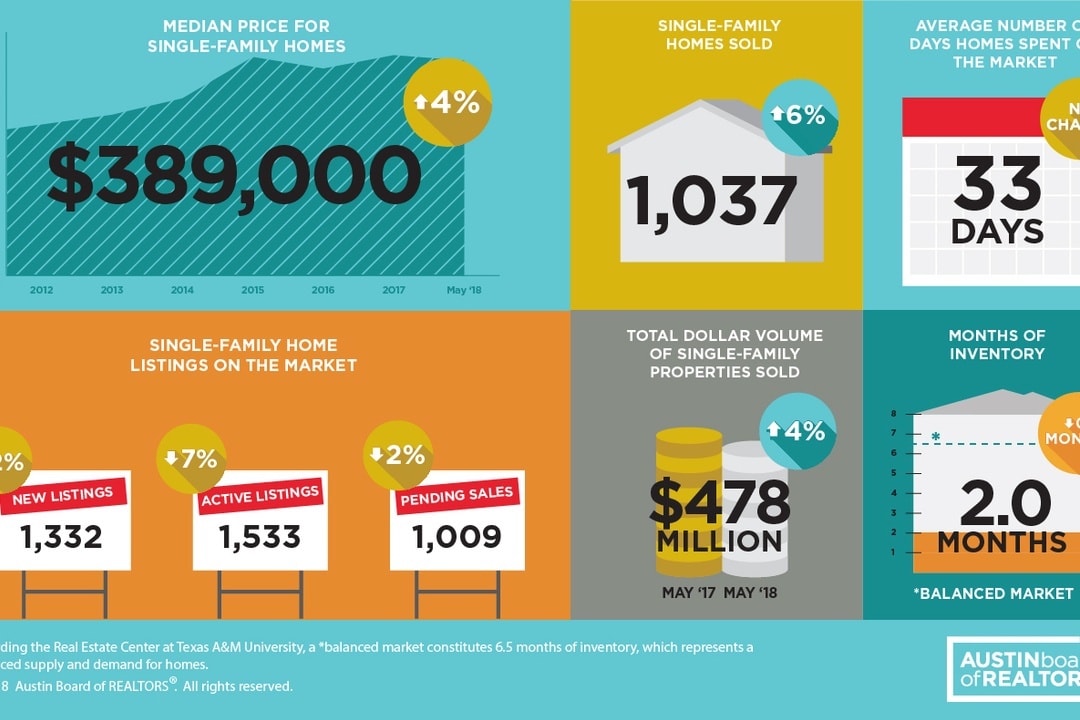 AUSTIN, Texas – Decreasing housing inventory paired with strong demand continues to drive Austin's growing affordability crunch, according to the May 2018 Central Texas Housing Market Report from the Austin Board of REALTORS® (ABoR).
In the city of Austin, the availability of housing compared with demand — as measured through inventory — continues to be historically low while median home prices have reached historic heights.
The median price for single-family homes in the city of Austin increased 3.7 percent year-over-year to $389,000 in May, an all-time high for the city. While home sales rose 5.9 percent to 1,037 sales, housing inventory decreased from 2.1 months last year to 2.0 months during the same time frame. There were fewer active listings as well, as the amount of homes available on the market decreased 6.8 percent to 1,533 listings.
"Our current market imbalance in Austin is made worse by an antiquated land development code that places unnecessary constraints on building the number and variety of homes our community needs," Steve Crorey, 2018 president of the Austin Board of REALTORS®, said. "Austin's lack of housing choices disadvantages first-time homebuyers, families with children, and middle and lower-income buyers. Coupled with rapid population growth, it's driving an affordability crisis that leaves many residents looking for homes far from job centers and essential services."
Austin has reached a new high for home prices just when Austin City Council is in the midst of debating whether to adopt an updated land development code through the CodeNEXT process. An updated code has the potential to ease housing affordability pressures by allowing a wider variety of homes along corridors and in transition zones while streamlining development regulations.
Over the last five years, the pace of home price growth in the Austin-Round Rock MSA has exponentially outpaced the median family income growth. According to the Department of Housing and Urban Development (HUD), Austin-Round Rock median family income increased 17.5 percent from 2013-2018, while ABoR data shows that median home prices increased 42.5 percent from May 2013 – May 2018.
The growth in housing prices in the city of Austin also has implications for the Central Texas region at large, where home prices continue to rise amidst tight inventory. In May 2018, seven in 10 homes sold within the five-county MSA were sold outside of Austin city limits.
In the Austin-Round Rock MSA, home sales rose 4.2 percent year-over-year to 3,210 sales in May 2018 and housing inventory decreased from 2.8 months last May to 2.7 months this year. During the same time frame, the median home price increased 4.8 percent year-over-year to $325,000.
"We can't continue to export affordability beyond Austin city limits," Crorey concluded. "That's why we need a code that provides strong tools to manage our region's current and future growth, as well as sustainable solutions for more affordable housing options right here in Austin. It's critical that the CodeNEXT process continue and that we as a community stop postponing difficult decisions."
See the full Austin Market Report - here.