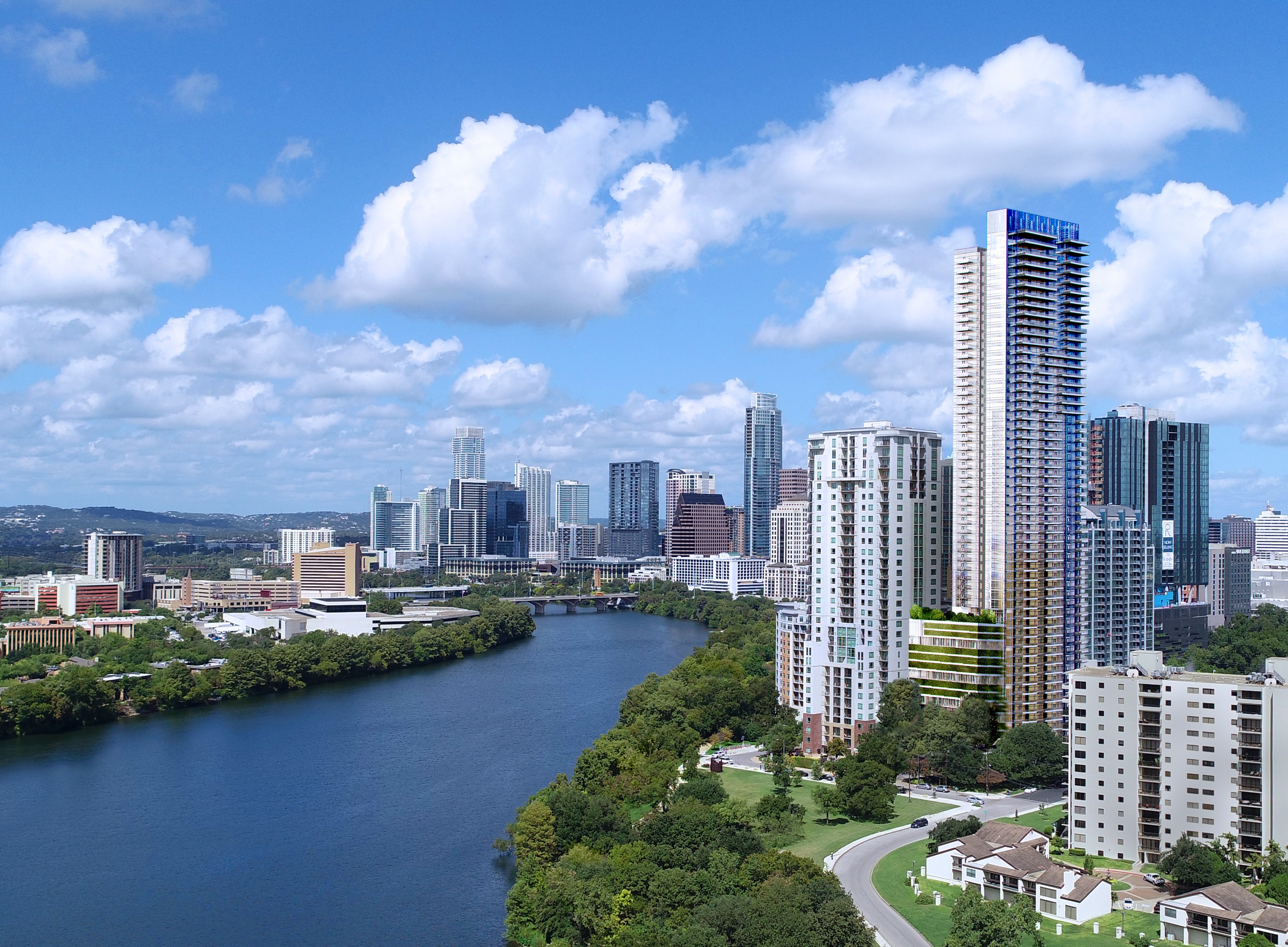 National real estate development firm Intracorp, based in Vancouver, has very casually dropped a press release this afternoon that completely changes the game for tall development in downtown Austin's Rainey Street District, with the announcement of a 51-story condo tower planned at 44 East Avenue — that's directly next door to the Windsor on the Lake apartment tower and down the street from the planned 33-story condo tower at 48 East Avenue.
The new residential development located on East Avenue on the corner of Cummings Street will be 51 stories and will rise about 545 feet tall. At approximately 460,000 square feet in total, the tower will include approximately 330 for-sale residences, which will be a mix of efficiently designed 1- and 2-bedroom homes as well as larger 1-4 bedroom residences, and some impressive penthouse opportunities. Approximately 3,000 square feet on the ground floor will also be available for retail/dining space. An on-location parking structure will include over 500 spaces for both tenants as well as some for the public.
— Intracorp Press Release, October 3
This is Intracorp's first project in the Austin market, but the release notes the firm is "proud to be working with several top local firms for this first development." Here's what that means (emphasis mine):
Intracorp has engaged several reputable local firms to bring their considerable talents to the project. Page was selected as lead architect for the development with Larry Speck as Senior Principal. Page will also be leading interior design for the homes. Michael Hsu Office of Architecture will handle the interior design for common area and amenity spaces, with Flintco, LLC providing preconstruction services, BIG RED DOG Engineering as civil engineer, dwg as landscape architect and Urbanspace for project sales and marketing.
— Intracorp Press Release, October 3
With this brief information and single rendering, a new tallest tower plan has arrived for the Rainey Street District — and it's been announced before the area's current tallest tower has even had the chance to open its doors. We've seen permits related to this address in the last few months that implied development was in the cards for the site, but these plans are miles beyond what we might have expected in terms of height. I'm going to have to update my hypothetical rendering of the Rainey area's future skyline!
It's worth noting that this project looks uncannily similar to the unrealized 44-story 21c Museum Hotel concept announced back in 2007 for the northeastern corner of Third and Brazos Streets — where the Whitley apartments are now — that became one of downtown's many pieces of tower vaporware after the 2008 recession. With the 44 East Avenue project designed by Page and the old 21c concept designed by the architects at Goody Clancy, the similarities are likely just a happy accident — but here's a comparison between the two buildings just the same:
Left: The new 44 East Avenue tower concept. Right: The old 21c Museum Hotel concept announced back in 2007. Images: Intracorp / Page / 21c Museum Hotels / Goody Clandy
With the arrival of this project and everything else planned along the corridor, it's becoming fairly obvious that East Avenue is the district's next conduit for rapid expansion. According to the release, the 44 East Avenue building's groundbreaking is planned for the spring of 2020, with delivery scheduled for fall of 2022.
These photos and blog were originally written and posted by Jude Galligan of Austin.Towers.net. – Read the full article here.