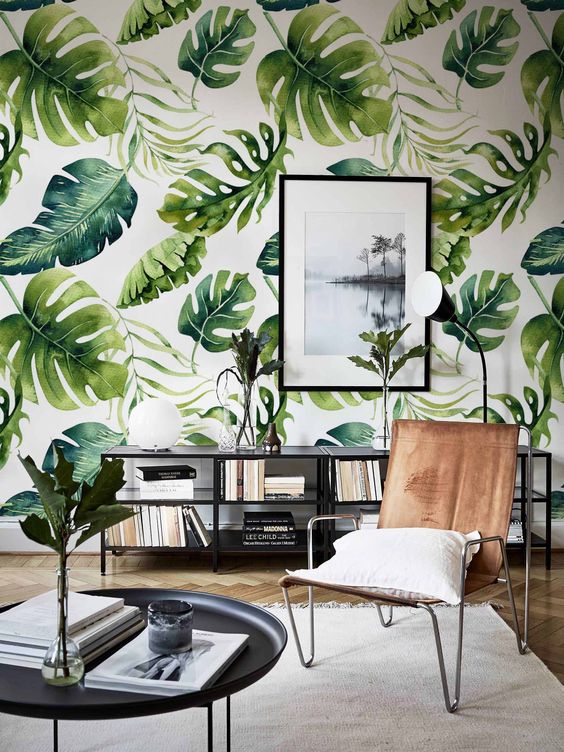 There's nothing quite like summer. The days are longer; The sun is shining; Life is good. Summer is the perfect time to open up your windows, let in the light and refresh your home. It's time to add some new style and shine into these rooms! Summer is the most fun season, so don't be afraid to decorate with some fun and wild colors and patterns. The hottest design trends this summer are all about making your home feel more vibrant and alive! Give your home a sparkling makeover this summer with these hot design trends.

Accent wallpapers
One of the hottest design trends we're seeing these summer is leafy pattern wallpapers. A simple way to add some life to a room is accenting one wall with a removable wallpaper in a tropical print wallpaper. Peel-and-stick wallpapers are an easy way to add a bold statement to a room. When it's time to take the wallpaper off, simply peel it off! No long-term commitment needed.
Statement rugs
Don't feel like putting up wallpaper? No worries! Statement rugs are an easy way to bring life to any room. A good statement rug has the power to be the foundation for any room, which is all the more reason to go for a wild print or color! Don't worry about the rug matching perfectly with your other décor and furniture. You want it to contrast with everything else!
Geometric décor
We're seeing geometric accents everywhere these days. From light fixtures and statement sculptures to rugs and wallpaper, this modern trend is taking over. Try giving your room a modern makeover by bringing in some metal geometric pieces. It will make the space look stylish, minimalistic and modern.
Bring the indoors out
Summer is all about BBQs, hanging out on the patio with your friends or just enjoying the outdoors. So, what better time to bring the indoors – out! We're seeing #outdoorliving spaces all over Instagram, and it's time for everyone to hop on the trend! Design your outdoor space the same way you would your indoor space. You can easily achieve these with a pallet couch, some comfy cushions, throw pillows, an outdoor rug, and some string lighting.