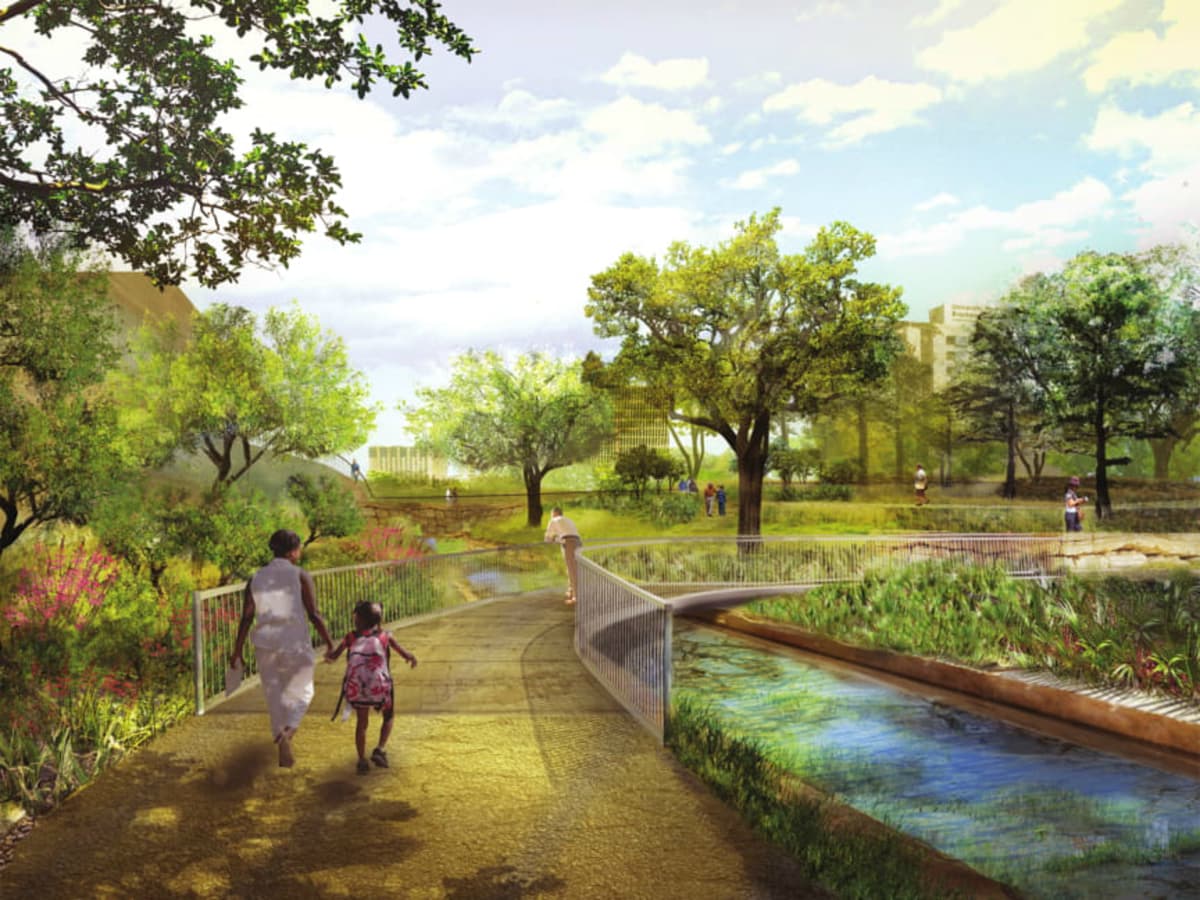 Austin's very own 'Central Park' - Could it be true?!
A comment made by Mayor Steve Adler during an Austin City Council work session is shining new light on Waller Creek's revitalization project. If additional funding is approved later this month by Austin City Council, supporters (and Adler) believe this stretch of downtown greenspace may end up being the crown jewel of Austin.

As previously announced, the project would create a chain of four parks running from Waterloo Park at 15th Street between Trinity and Red River to the delta where Waller Creek merges into Lady Bird Lake. "When we talk about this project, nature, community, and culture are the three pillars," said Melissa Ayala, community engagement manager at Waller Creek Conservancy.
In total, 35 acres of public land would be redeveloped, complete with an amphitheater, an extension of the Butler Hike-and-Bike Trail, ecological restorations, and a new connection between Waterloo Park and Symphony Square (something that Creek Show 2018 attendees will get a sneak peek of in November).
"I'm not sure that anything that city council does will be remembered in 100 years, other than what will be our equivalent of Central Park," Adler mused during the council's session. But before Austin gets our Central Park, that $355 million hinges on three things — including the public's input.
Like most things to do with finances and taxes, this story can be confusing. After the groundbreaking last year, the Austin City Council tasked the Waller Creek Conservancy with finding a way to fund the multimillion-dollar project. On May 8, the City of Austin deputy chief financial officer Greg Canally, Waller Creek Conservancy CEO Peter Mullan, and interim assistant city manager Sara Hensely gave city council a 35-minute presentation in which they responded to this task with a new plan.
In total, $245 million of both public and private funding would be used to construct and build the parks, through things like the public tax increment reinvestment zone (known as TIRZ No. 17) and private donations.
The other $110 million is estimated for long-term maintenance. "[It's] made up of a combination of private funding sources, including philanthropic donations we raise; earned revenue from concessions/sales within the parks; and from property owners via a Public Improvement District, or PID, in collaboration with the Downtown Austin Alliance," said Ayala.
But first, the city council must approve TIRZ No. 17, set to expire in 2028, and extend it to 2041. (Still with me?) Before that, the council will host a public hearing — tentatively scheduled for May 24 — to hear citizen feedback.
If funded, the project should be completed in seven to 10 years, according to Ayala.

In February, it was revealed that the $116 million tunnel was improperly built. In response, the city withheld millions of dollars in payment which in turn caused the contractor to counter sue the city. "We are committed and continuing with our project, and our plan has not been impacted," explained Ayala, who also pointed out the conservancy is not part of the litigation. (It doesn't help matters that everything is named for Waller Creek.)

For now, that plan includes public projects like Creek Show and this weekend's Field Day on May 12, a free day of activities like a yoga class and cooking demonstration, as well as a step performance by Campbell Elementary students. It's this kind of programming — and promise — that the conservancy wants to continue. "What we envision for these parks are really active spaces where the community can come to visit spontaneously, but also [to enjoy] thoughtful programs," said Ayala.
Photo and article were originally posted on CultureMap Austin - click here to read the full article.